Scorp Education Consultants represents prestigious education institutions for students to study in Ireland. Our team has expertise in dealing with admission application across many countries for Ireland education system ensuring the best possible service.
Ireland's worldwide reputation for high quality education is built on the solid foundation of commitment to excellence
Ireland is in the top-twenty worldwide for its higher education system, according to the IMD World Competitiveness Yearbook 2014.
Importantly also, the Irish NFQ system is compatible with the ENIC-NARIC (European Network of Information Centres/National Academic Recognition Information Centres), which facilitates the recognition of academic qualifications throughout Europe and internationally in countries such as the USA, Canada, Australia and New Zealand.
Ireland is a friendly, safe country. But don't just take our word for it.

In 2010, Lonely Planet named Ireland the most friendly country in the world.
The Global Peace Index rates 158 nations worldwide on measures such as conflict, safety and security in society and militarisation. In 2014, it ranked Ireland the 13th most peaceful place on Earth.
In 2013, the OECD put Ireland in the top ten in its Better Life Index. In general, Irish people were more satisfied with their lives and had more positive experiences in a typical day than the OECD average. What's more, the Irish scored second highest in the OECD for citizens volunteering time, giving money and helping a stranger.
Ireland is the European hub to over 1,000 leading multinational companies! Companies who require a skilled, educated and highly capable workforce to drive their success chose to locate in Ireland.
Over 1,000 FDI giants in ICT, Social Media, Pharmaceuticals and Finance have made Ireland the hub of their European operations, with names such as Google, HP, Apple, IBM, Facebook, Linkedin, Twitter, Pfizer, GSK and Genzyme.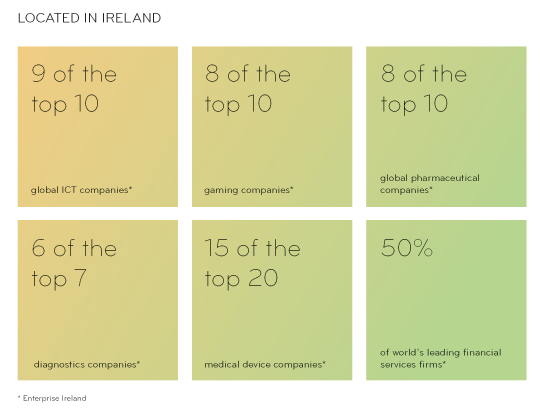 Apart from a strong foreign owned multinational sector, Ireland also has vibrant indigenous industries. Companies competing on the world stage including CRH, Smurfit Kappa, DCC, Glen Dimplex, Greencore, Kingspan, NTR and Paddy Power.
Half of the medical technology companies in Ireland are Irish and there is a vibrant software sector exporting mainly to the UK and the US.